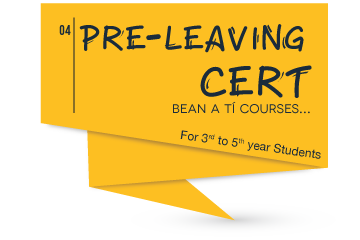 Overview
This course will benefit all pre-leaving cert cycle students. Though all sections of the course will be covered, the emphasis will be on the spoken language, on developing oral and communication skills. This will help students with all aspects of their course, but especially the Oral and Aural Language Examinations.
We also have extra classes for Leaving Certificate students, 3 times per week at no extra cost. This is to enhance their level and knowledge of the Irish curriculum. It could be the difference in a grade. Do not miss this exclusive opportunity to develop your learning and get the H1.If you want an H1 dont delay, Book Now!
Two Week Courses – from €790**

Three Week Courses – from €995**

*Deposit required – €250
Course Dates 2020
No courses currently scheduled
Activities
Coláistí Chorca Dhuibhne put great emphasis on learning Irish though fun and interesting non-classroom based activities, ranging from sports to trips to historical sites throughout west kerry. When the weather is suitable, students spend the afternoon on the beach. 
The objective of the college is to give students not only a knowledge of the Irish language but also a knowledge of traditional Irish music and dance. Our aim is to have every student leave with a few steps, maybe a few words of an Irish song and most of all great memories… 
All activities are supervised by our trained team at Coláistí Chorca Dhuibhne…