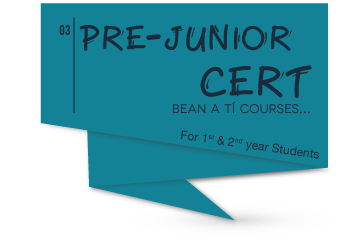 Overview
This course will benefit students who are in 1st and 2nd year. Topics on the Junior Certificate curriculum will be covered on an interactive basis. Strong emphasis on the Irish Oral.Students can Learn to Love Irish on the Dingle Peninsula in the heart of West Kerry Gaeltacht. This course is suitable for students aged 12-14 years old and the option of residential based setting often suits students who are leaving the nest for the first time!
Two Week Courses – from €790**

Three Week Courses – from €995**

*Deposit required – €250
Course Dates 2020
No courses currently scheduled
Activities
Coláistí Chorca Dhuibhne put great emphasis on learning Irish though fun and interesting non-classroom based activities, ranging from sports to trips to historical sites throughout west kerry. When the weather is suitable, students spend the afternoon on the beach. 
The objective of the college is to give students not only a knowledge of the Irish language but also a knowledge of traditional Irish music and dance. Our aim is to have every student leave with a few steps, maybe a few words of an Irish song and most of all great memories… 
All activities are supervised by our trained team at Coláistí Chorca Dhuibhne…