Summer Courses 2022 Now Available
Tá Danny O'Reilly ón mbanna ceoil 'The Coronas' ag teacht go Gaeltacht Chorca Dhuibhne le 20 bliain anuas. Labhraíonn sé ar thábhacht agus ar thionchar na Gaeilge ar a shaol, ar ár bhféiniúlacht mar Ghaeil agus ar a chuimhní geala i measc muintir na háite agus é ag cleachtadh na Gaeilge go fóill. 
Danny O'Reilly from the band 'The Coronas' has been travelling down to the Dingle Peninsula for over 20 years. He chats about his love for the place and the people. He also explains the importance of the language for us as Irish people and how he continues to practice speaking the language.
Summer College Gaeltacht Chorca Dhuibhne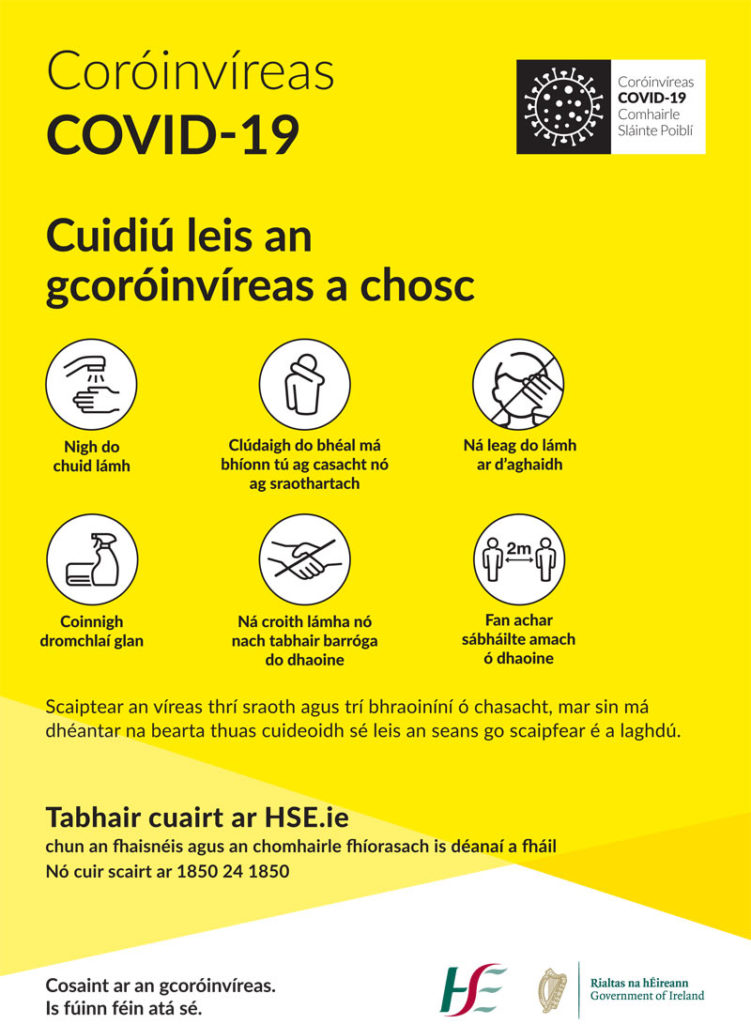 Is le croí trom atá Coláistí Chorca Dhuibhne, Baile an Fheirtéaraigh, Co. Chiarraí ag cur in iúl go bhfuil Cúrsaí Samhraidh 2021 curtha ar ceal i mbliana de dheasca na paindéime Covid-19. Tá ana-dhíomá orainn i gColáistí Chorca Dhuibhne mar is buille tubaisteach é seo do cheantar Gaeltachta Chorca Dhuibhne. Is cúis bhróin í nach gcloisfear glór na nGael óg ar fud na dúichí. Táimid thar a bheith brónach nach mbeidh taithí Ghaeltachta á fháil ag daltaí óga na tíre i dtithe lóístín na mban tí ná sa choláiste Gaeilge ach oiread.
De bharr comhairle ósna húdaráis sláinte agus ar mhaithe le sláinte phoiblí a chosaint, ag cur san áireamh na bearta éigeandála atá á nglacadh maidir le Covid-19, tá cinneadh déanta ag an Roinn Cultúir, Oidhreachta agus Gaeltachta nach reáchtálfar aon chúrsa foghlama Gaeilge sa Ghaeltacht an samhradh seo de bharr na paindéime Covid-19.
Cailliúnt mhór ghroí an gnó dosna páirtithe leasmhara go léir, don bhfostaíocht, don gceantar, don dteanga, don gcomharsanacht agus don ngéilleagar áitiúil.
I láthair na huaire, an rud is tábhachtaí agus is práinní ná sláinte ár muintire. Guímid an dea-shláinte oraibh go léir, ar bhur gclannaibh agus bhur gcairde.
Táimid fíorbhuíoch as bhur gcomhoibriú leanúnach le Coláistí Chorca Dhuibhne. Tiocfaimid as agus beidh cúrsaí i mbarra a réime arís, gan mhoill.  Ardófar na seolta le díograis agus le fonn.
Idir an dá linn tugaigí aire mhaith dá chéile.
Bainistíocht & Foireann Choláistí Chorca Dhuibhne
It is with great regret Coláistí Chorca Dhuibhne wish to inform you of the cancellation of all of our Summer courses for 2021 due to the covid-19 pandemic we are currently experiencing. We are extremely disappointed at Coláistí Chorca Dhuibhne to make this announcement. It is sad that we will not hear the sound of the country's youth immersing themselves in the West Kerry Gaeltacht this summer. We are also very disappointed that students will not get the opportunity to experience the Irish language in the homes of our Mná Tí and in the college itself.
This decision has been made by the Department of Culture, Heritage & the Gaeltacht based on advice from our health expert officials that no Irish summer course should be held this summer.
It is a considerable loss to our local community, to local employment, to our language and the local economy as a whole.
At this present time, the most important matter is the health, safety and well-being of family members and friends. We at Coláistí Chorca Dhuibhne wish you all good health.
We are very grateful for your continued support of Coláistí Chorca Dhuibhne.
We shall resume all our Irish language courses and activities as soon as it is safe to do so.
In the meantime, take good care.
Stay Home, Stay Safe.
Management & Staff of Coláistí Chorca Dhuibhne
Summer 2022 courses now available to book
Spóirt Uisce i gColáistí Chorca Dhuibhne
Fáilte go suíomh idirlíon Choláistí Chorca Dhuibhne
Ag cabhrú le daoine óga ó gach aird den domhan an teanga a shealbhú.
Faigh amach faoi na h-iarrachtaí atá á dhéanamh sa cheantar seo chun an Ghaeilge agus Pleanáil Teangan a chur chun cinn go háitiúil ar shuíomh
Tobar Dhuibhne
.
Welcome to Coláistí Chorca Dhuibhne
Helping young people from all over the world to master the language.
Find out about the efforts being made in this area to promote the Irish language and Language Planning locally on the Tobar Dhuibhne site.Tobar Dhuibhne site.